Description
Rapid, simple, and versatile security.

The Multi-Zone, when equipped with optional casters and a battery module, can be quickly deployed at special events, schools, and other large venues.


There are no wires to contend with. It is simple to relocate to a new location at any time.
Pictured: Multi Zone is shown with optional casters and battery module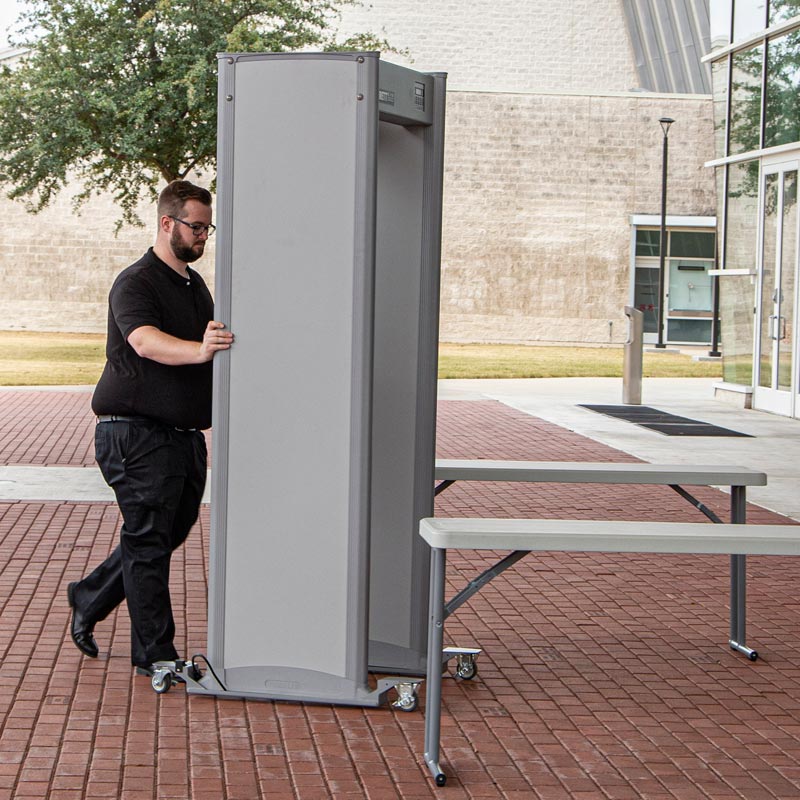 DON'T BE CAUGHT IN THE DARK
in the event of a power outage or AC power cutoff, a 1-hour emergency backup battery module is included. Also available is a battery with 10-hour runtime.
Garrett Walk-Through Detector Safety
Garrett walk-through metal detectors exceed the U.S. and worldwide regulatory criteria for electromagnetic safety. There is no indication, despite extensive investigation, that Garrett goods are harmful to pregnant women, medical devices (such pacemakers), or magnetic recording mediums. However, it is important to follow the recommendations made by doctors and the producers of medical equipment regarding metal detectors.
Features
OPTIMUM PERFORMANCE 
To meet the demands of schools, airports, jails, courts, special events, and other applications, more than 15 application packages have been developed.
20 ZONE PRECISION 
The twenty zones of the Multi Zone offer simultaneous exact location for one or more objects.
DIRECTIONAL COUNTER
with four counting options (forward, reverse, subtract in reverse, and bi-directional).
ABILITY TO NETWORK
Utilizing the iC Module, you may manage walkthroughs individually or in groups and conduct statistical analysis across the network.
AUTO-SCAN FUNCTION
In order to choose the best frequency for noise canceling, the Multi Zone examines the electromagnetic surroundings.SUPERIOR
VERSATILITY
To enable system improvements, fields are configurable. protected from wind, rain, and dust in the environment.
ENHANCED ACCESS CONTROL
A 5-digit alpha/numeric system with 60 million possible code combinations is used to control tamper-free detectors. A switch locked in the lockable cabinet and a programmable keypad restriction is two additional security measures.
PERSONALIZED MENU DESIGN
Menu selections with 32 characters are simple to understand (i.e. no confusing codes or acronyms to memorize).
BRIGHT LED INDICATORS
Even in bright sunshine, zone indicators, green and red status lights, and eye-level status lights are quite visible.
INTERNAL SD MEDIA PORT 
for software updates.
ADVANCED SYNCHRONIZATION
Multiple detectors can be mounted as close as two inches apart thanks to advanced technology.
UNIQUE SLIDEBAR
Use to quickly change a setting's value.
Product Specification 
Sensitivity
Up to 200 distinct sensitivity levels
Zone Indications
20 zones
Overhead Control Unit
All electronics—LED, alarm light, bar graph, control touchpads—are integrated to eliminate exposed wires and tampering.
Tamper-Proof Settings
Three levels of access control
Self Diagnostic Program
Complete and automatic
Zone Sensitivity Boost
20 Independently adjustable boosts
Battery Packs
1.5 amp-hour battery module provides a typical 1-hour operating time. Optional 14 amp-hour battery module provides up to 10 hours operating time. Both batteries are integrated to eliminate exposed wires, and tampering.
Warranty
24 months, Limited Parts/Labor
Passageway Interior Size
Width 30″ (0.76 m)

Height 80″ (2.03 m)

Depth 23″ (0.58 m)

Overall Exterior Size
Width 35″ (0.90 m)

Height 87″ (2.21 m)

Depth 23″ (0.58 m)

Shipping Size
Width 35.5″ (0.90 m)

Height 91.5″ (2.32 m)

Depth 6.25″ (.16 m)

Shipping Weight
151 lbs. (68.5 kg)
Temperatures
Operating on AC: -4º F (-20º C) to +140º F (60º C)

Battery operation:  14º F (-10º C) to +140º F (60º C)

Humidity to 95% non-condensing

Storage: -22º F (-30º C) to 176º F (80º C)

Battery storage: -14º F (-10º C) to +176º F (80º C)

Power
Fully automatic 100 to 240 VAC, 50 or 60 Hertz, 40 watts; no rewiring, switching or adjustments needed.
Regulatory Information
Meets Electrical Safety and Compatibility Requirements for CE, FCC, CSA, IEC, ICNIRP, IEEE. Additional certifications pending.
Weatherproofing
Meets IP 55, IEC 529 Standard for moisture, foreign matter protection
Construction
Attractive scratch and mar-resistant laminate. Detection Head and Support: heavy-duty aluminum.
Access Control (optional)
Relay Module provides relay contact via RS 485 cable
Remote Control (optional)
Desktop Remote Control with Zone Indication and/or via the network with IoT Control Module (iC Module).
Networking (optional)
Manage individual or groups of walkthroughs and perform statistical analysis of throughput using the iC Module.
Random Alarm Feature
Adjustable from 0 to 100 percent.