It is more than the sum of its parts.
The Garrett Paragon retains the best aspects of its predecessors while also introducing previously unseen setup and operation features, as well as a distinct and pleasant new appearance. A detector that is connectable, adaptive, and dependable is required for modern, mission-critical security systems. All of that and more is what Paragon is.
Description
A model of excellence.
With its user-empowering features and high-performance detection capabilities, Paragon sets the standard for the future of high-security detection. Detect ferrous and non-ferrous metallic contraband with more program options than ever before, as well as increased sensitivity and interference immunity.
There are numerous applications.
From stadiums to courthouses, theme parks to schools, Paragon has the versatility to meet your needs. Respond in real-time with simply customizable parameters and improved mobility, ensuring that unexpected traffic fluctuations or VIPs never send your security system into disarray.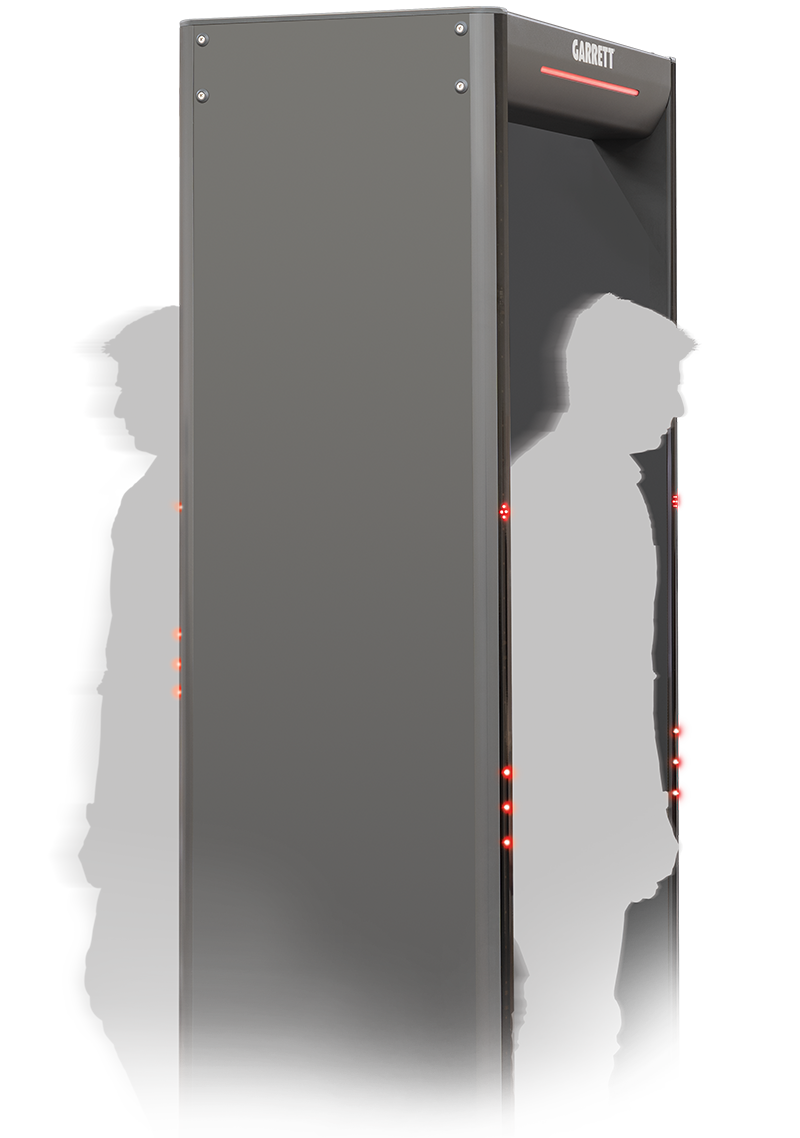 Ambiscan uses a single detector
to do the work of two. This Paragon feature enables supervisors to establish two distinct sensitivities dependent on traffic direction.
Catch any weapons that come in. Capture firm property on the go.
Cuts the size of your security checkpoint in half.
Remove user error caused by extra detectors or frequent setup adjustments.
Only alarm on the targets you wish to catch to reduce operator fatigue.
DOUBLE THE DETECTION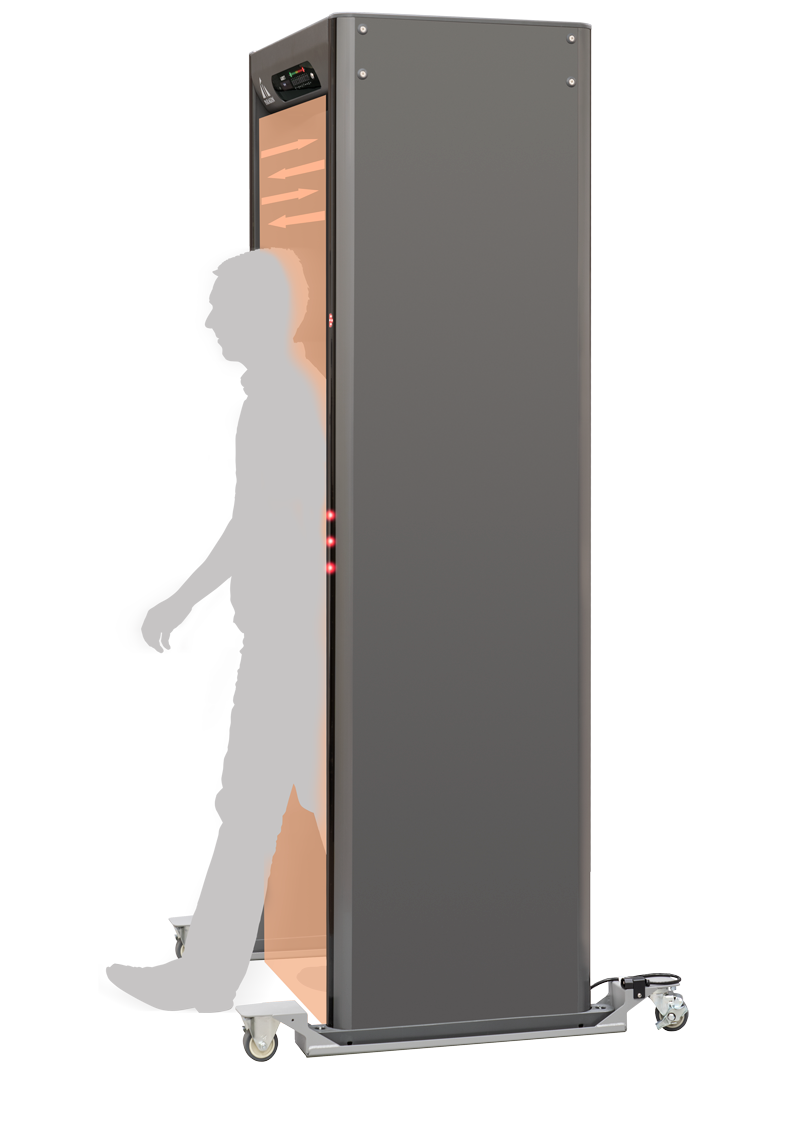 GARRETT EXCLUSIVE

BILATERAL DETECTION
Both panels of the Paragon include dual transmit and receive capability, which is a Garrett industry first.
This means:
Detection is evenly spread around the walkthrough portal. As the transmit power shifts from left to right, single-sided detectors undergo falloff. This flaw is eliminated by Paragon.
Setup of multiple units has been simplified. The doubled perspective of Paragon improves its ability to account for and reduce interruption produced by nearby walkthroughs.
Excellent target analysis. Bilateral screening by Paragon is the electromagnetic equivalent of binocular vision, boosting the detector's ability to precisely recognize and discriminate items within the portal.
CATCH THREATS QUICKLY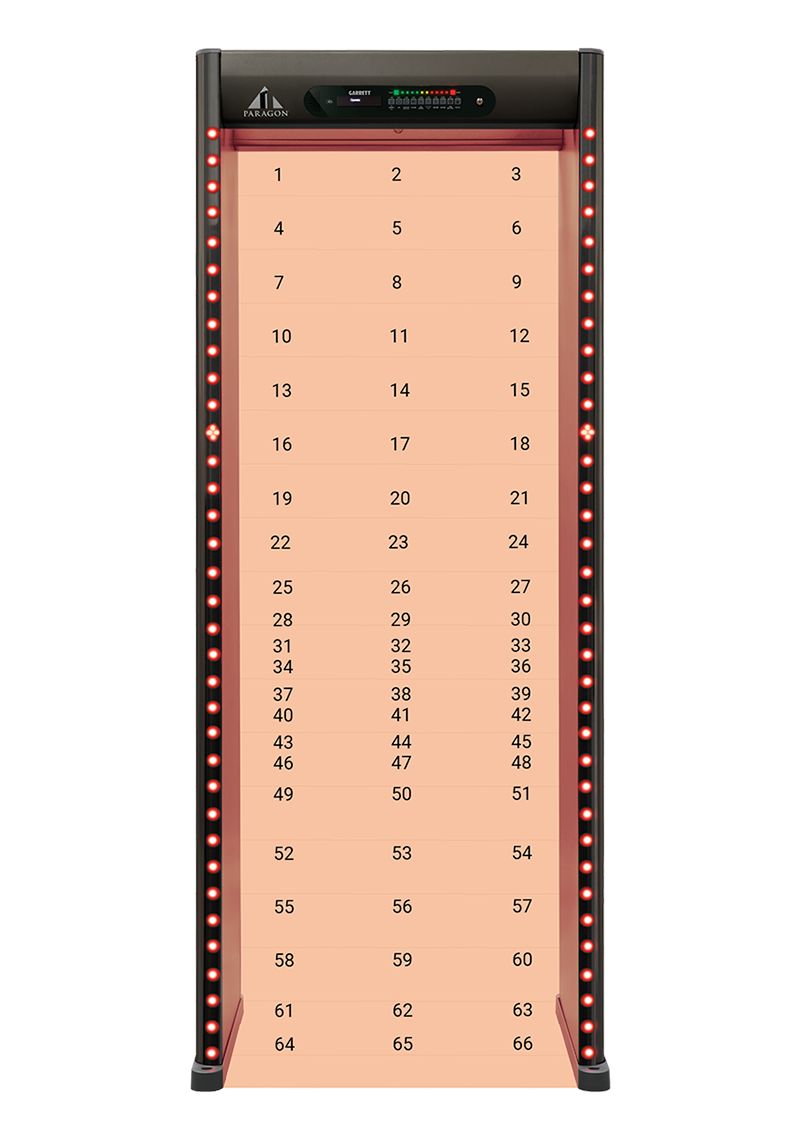 GARRETT EXCLUSIVE

   66 ZONES
The industry-leading 66 zones – left/center/right identification of targets across 22 horizontal bands – are included with Paragon. This high-resolution detection allows operators to discover targets quickly and efficiently during secondary screening while remaining focused on the checkpoint.
Zone Boost emphasizes high-risk zones. All 22 of Paragon's horizontal bands are separately adjusted for optimum precision in addressing your facility's detecting needs.
Integrated UPS
UPS with integrated power supply.
Internally mounted emergency power ensures ongoing functioning in the event of an inadvertent power outage or AC disconnect.
Pacing lights with high visibility.
At major events, this allows patrons and employees to plainly see entry spots.
Storage in a cabinet.
Charges the handheld detector while it is not in use. front view of the Paragon
View from the Front
IP 65
Exact construction offers all-weather performance and resistance to dust and water.
Design that is sophisticated.
The clean and trim structure of the Paragon is equally at home in an office building as it is in a stadium.
Zero Touch technology.
The NFC card reader enables for setting adjustments without the need for mechanical insertion, resulting in less wear and fewer card replacements.
TOF.
The presence of persons and the direction of passage via the walkthrough portal are detected by Time of Flight sensors.
Crosspieces must be secured.
To avoid manipulation, both the detecting head and the crosspiece are key-locked. View from the back of a paragon
Rear View
Quick-Q®.
Cell phones can be ignored while yet detecting mass casualty weapons, thanks to customizable settings.
There are 200 sensitivity levels.
For optimum security flexibility, all of Paragon's 23+ programs are customizable to 200 sensitivity levels.
Warranty period of three years
Please see the Warranty Notice.
Additional information
| | |
| --- | --- |
| Weight | 92 kg |
| Made In | |
| Warranty | |